My Life. My Journey.
Our Daughter, Adalai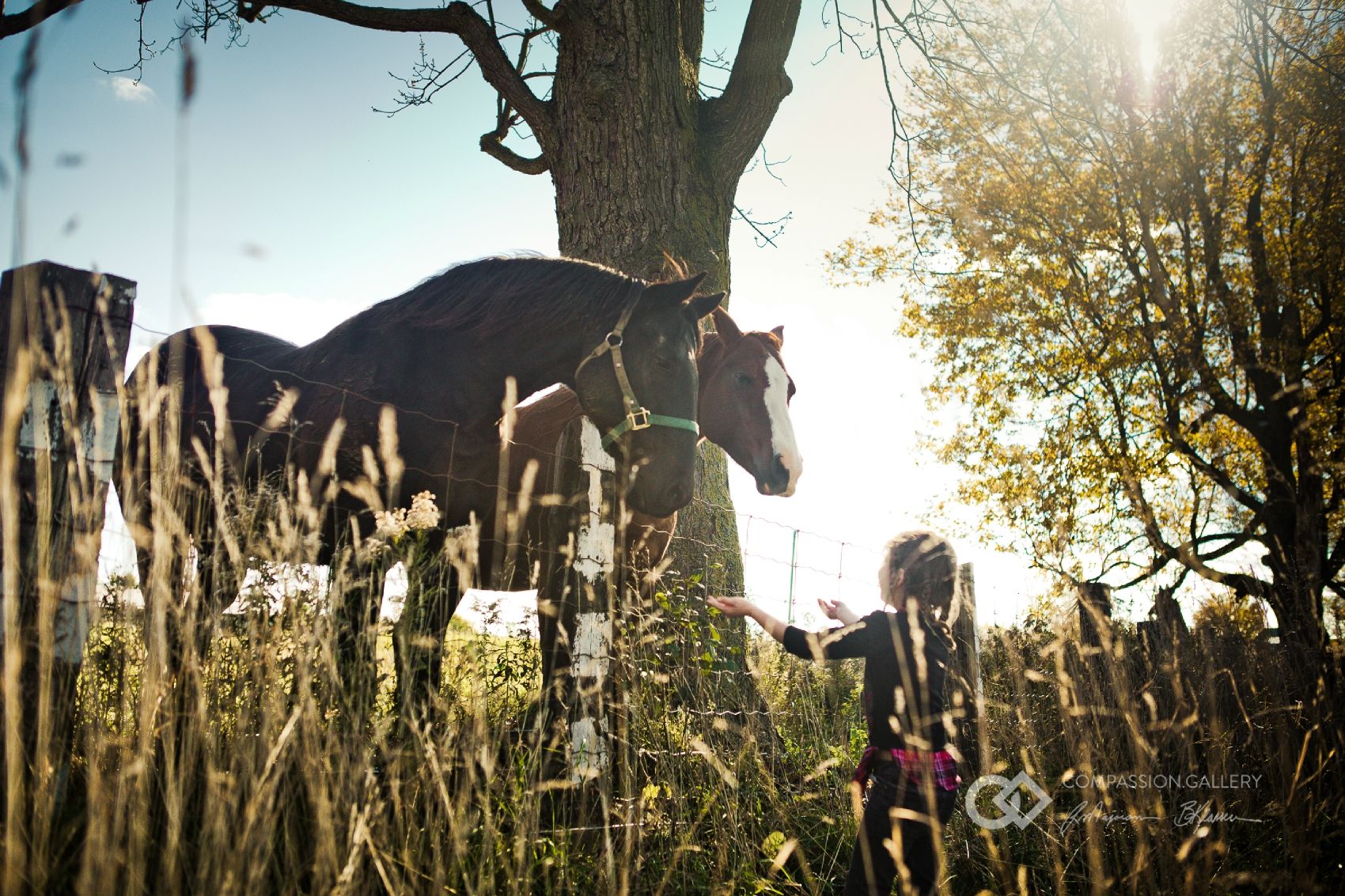 As I sit here about to write this section, my mind is filled with thoughts and emotions. Wow. What an amazing, life-altering journey.
Much of my testimony to this point has focused on the miraculous power of God through physical healing. Let me be the first to say that sometimes God shows His glory through physical healing, and sometimes He knows better. We don't have to look far in Scripture to see examples of this.
Speaking on being given a thorn in his flesh, Paul notes (in 2 Corinthians 12:8-10), "Three times I pleaded with the Lord to take it away from me. But He said to me, 'My grace is sufficient for you, for my power is made perfect in weakness.' Therefore I will boast all the more gladly about my weaknesses, so that Christ's power may rest on me. That is why, for Christ's sake, I delight in weaknesses, in insults, in hardships, in persecutions, in difficulties. For when I am weak, then I am strong."
Or rewind to Luke 22 when Jesus, who knows He's about to be crucified says, "Father, if you are willing, remove this cup from me. Nevertheless, not my will, but yours, be done."
God could have removed the thorn from Paul, but He didn't. His power was made perfect in Paul's weakness. He could have removed the cup from His Son, Jesus, but for the sake of mankind, He did not.
Jesus himself taught us how to pray. "Your kingdom come, Your will be done, on earth as it is in heaven." (Matthew 6:10)
Sometimes the things we want in the flesh (such as healing) are in His will, and sometimes they are not. But we can be sure that if we trust Him, He will not lead us astray.
"Trust in the Lord with all your heart and lean not on your own understanding;in all your ways submit to Him, and He will make your paths straight." (Proverbs 3:5-6)
Now fast-forward to the 21st century, and that's where Carolyn and I found ourselves when it came to having children.
Carolyn sums it up best in her blog from January 25th, 2012:
If you know anything about us, you know that Ray and I struggled with infertility for many years. We prayed for a child continuously. We shared our pain with friends and family so that they could pray with us. It seemed that God was not answering our prayers. Instead, I was left reeling from what felt like a complete betrayal from the relationship that meant the most to me outside of my relationship with my husband. If prayer and working at a relationship with Christ was all that would have brought a child into my life, I would have been pregnant.

In His great wisdom, God withheld a biological child from us because He knew that He had a greater gift to give us. While the road was painful for many years, when we were lead to adopt, God placed Adalai into our lives more quickly than we ever anticipated! She is our miracle child regardless of her being carried in another mother's womb. She is the child God intended for us.

My firm belief, after years spent pleading with God to give me my heart's desire in the way I wanted it to be fulfilled, is that our prayers need to be rightly focused. If what I am asking for is not in God's plan for my life, it won't matter how many times I request it. Through my struggle with infertility, I learned to pray for what was God's will for me. And beyond that, if my heart's desire was not His desire for me then I needed Him to remove it from me.

This simple change in how I approached God in my request changed me completely. After five years of praying about our infertility, God certainly knew what I'd be asking for. But, I began pleading for His will to be done even though it may not be my will. I began pleading for Him to remove the desire to have a biological child if He did not intend for me to be pregnant. It was not an instant miracle but it did happen. About 7 months before we adopted our daughter I felt a significant change within me. I was finally at peace with never having biological children. I was ready to accept whatever God had in store for us. God had changed my heart to be more like His in preparation for the wonderful gift He had planned for us. (For the full blog post, visit http://g7.gs/giants)
On June 16, 2007, Carolyn and I officially began the journey to adoption through a home study. Both of us felt complete peace in our hearts about wanting to adopt a child, and the home study was the first part of the process. A home study enables a social worker to "evaluate the home", which obviously includes evaluating the potential parents.
Our assigned social worker, Kim, was phenomenal. Before the interview, we had some uneasiness regarding some of the questions that we might be asked. But everything she asked was helpful and to-the-point. The big decision that we had to make at that point was which adoption route we wanted to go with. Essentially, there are three paths when it comes to adoption: International, CAS (Children's Aid Society) and Private. She explained that each type of adoption would require a different home study.
Carolyn and I had discussed it prior to the meeting and decided to go with the private route. In a typical scenario with private adoption, the potential parents provide a "profile" to the mother seeking adoptive parents. Usually, the mother picks between a number of profiles based on her desire for her child. For example, some mothers prefer that their child be adopted by a couple with no children, whereas others want their child placed in a home where children are already present.
In the weeks following our first home study, we did lots of homework. We met with Charmaine, a lady representing an online adoption registry53, who helped us write our adoption profile. We did police checks, fingerprinting, and thanks to Matt Sharpe (a good friend of ours), we were able to design a twelve-page creative profile.
We continued with our home study on July 28 and finished up on August 13. At that point, Kim told us she had everything she needed. It was just a matter of compiling all of the paperwork, getting us approved by the government, and then presenting our profile to potential birthmothers. As far as how long she thought it would take to find a child, she really couldn't answer that. "Usually somewhere between one and two years, but it could be longer; you simply don't know."
Regardless of the amount of time it would take once our home study was approved, we were prepared to wait on the Lord.
On the afternoon of Saturday, September 22, we received a call and email from Kim letting us know that our home study had been approved. There were just a couple of minor revisions that needed to be completed, but other than that, we were good to go. The "one to two year, or sometimes longer" process had officially begun.
"Trust in the Lord with all your heart and lean not on your own understanding." (Proverbs 3:5).
"Didn't you just quote that verse?" you might ask.
Yes. Yes, I did. And I'll repeat it again. Trust in the Lord with all your heart and lean not on your own understanding.
It was Monday, September 24. For those of you counting on your fingers, that's two days after our home study had been approved. The considerable amount that God had already taught me that year paled in comparison to what this day had in store.
My morning began in an ordinary fashion, though this Monday was not quite typical. I was on my way to speak at a conference for the Canadian Council of Christian Charities (CCCC). I had been preparing a number of days in advance for this engagement. The plan was to drive to Toronto, shoot a round of golf with Brian Klassen (my friend and business partner) and Andrew VanderPloeg (my friend and VP, Communications at our company), and then head to the hotel where the conference was being held. Then, the next morning, we would all do our respective talks at the conference.
On my way out the door, something stirred me mentally. In my laptop bag was my laptop (with my presentation on it), my digital camera, and my video camera.
Earlier in the year, Carolyn I had visited Daniel and Vera Kuranji, missionaries in Novi Sad, Serbia. While we were there, we recorded numerous videos of testimonies and events, none of which had been transferred or backed up to a computer.
It was like the Holy Spirit triggered my conscience. "Take the camera out of your bag in case it gets stolen."
Not really thinking too much about it, I went back in the house, opened up my laptop bag and removed the camera. I then drove off to pick up Brian and Andrew.
When we arrived at Royal Woodbine Golf Course, the parking lot was unusually packed. We ended up finding a spot near the back of the lot beside a cargo van.
While we were out playing, my friend Dave Drinkwalter called. I try not to take calls on the golf course, so, true to form, I didn't take this one either. Then he called again. Like the last time, I declined the call. Finally, he called one more time on the 18th green, and again I declined the call, knowing that I could chat with him in a matter of minutes.
I didn't really think anything of it. Dave and I talked all the time. Being September, I assumed that the Maple Leafs had landed a big player or something like that. I calmly finished up my round with the boys and walked back to my SUV.
As we approached the vehicle, I noticed that one of the rear windows near the trunk was shattered. I thought someone had driven a golf ball through my window due to a rogue drive. But as I approached the vehicle, I realized that it was much worse than that. Everything was gone—our laptop bags, our camera equipment, our suitcases and even our suits.
For those of you that know me, you know that I'm pretty particular when it comes to protecting my gear. You can steal my car, my clothes, or my wallet, but whatever you do, don't steal my laptop.
One of my greatest fears had come true—my laptop (along with everyone else's) had been stolen.
And that's one of the things that made this day so weird. Instead of losing my cool, I was completely calm. I mean, I wasn't happy about the situation—someone had just violated my car. But I wasn't angry either. "Lord, your will be done."
I walked into the clubhouse and asked the Golf Pro if they had any video cameras; they did not. He told me that this had been a recurring theme at the course lately, even citing a time when he chased the kids a number of blocks before giving up. He explained that, because Royal Woodbine is located near the airport, the thieves would wait for a plane to fly overhead to mask the sound of their activities. At the right moment, the thieves would shatter the glass on a vehicle with a pair of charged jumper cables (which explained why all of my glass was broken into tiny little pieces).
I then asked him if I could use a computer while I called the police. The reason why I asked to use the computer was because each one of our computers was equipped with Computrace, which is computer-monitoring software used to track stolen devices. Within seconds, I located our laptops. They were in an apartment building near Highway 401 in Toronto. I relayed all of the data to the police and they took my information. Again, I was completely relaxed inside. It was actually kind of surreal.
After patching up the window with a sheet of plastic, we determined that the best thing to do would be to drive to the CCCC conference and let them know that we couldn't present anymore. All of our data had been on the laptops and wasn't backed up, a learned lesson that we have now remedied at our company. We could have winged our presentations, but we all determined that the best thing to do would be to offer CCCC attendees a future workshop at no cost.
While we were standing outside of the hotel, my phone rang again. It was Dave; this time I picked up.
Ray: Hello.
Dave: Hey bro, it's Dave. I've been trying to get a hold of you all day!
Ray: I know man… I'm really sorry. We were playing golf and my car got broken into. All of our laptops, camera gear and clothes are gone. We're just standing in front of a hotel. Can I give you a call back?
Dave: Dude, I really need to chat with you now.
Ray: Why? What's up?
Dave: You know how you guys are looking to adopt?
Ray: Yeah?
Dave: My co-worker Jane just found out about a baby girl in need of adoption. Are you guys interested?
<insert long pause>
I honestly can't even describe the range of emotions that came over me at that point. I removed myself from the conversation with Andrew, Brian and CCCC, and walked to the back of my SUV.
Everything that had happened over the course of that day—it didn't matter. All of my possessions—I would give them up in a second for this.
The birth mom's name was Jennifer, who as it turned out, I went to high school with. She was a few years older than me so I never really knew her, but it did add some more amazement to the entire situation.
Jennifer had her baby at 2:20 a.m. on the morning of September 21. Jane, a worker at the Salvation Army church in Newmarket, knew Jennifer and was good friends with Dave who was the church's Youth Pastor at the time.
Immediately, I called up Carolyn and shared the news with her. She was ecstatic. Both of us knew in our hearts that this was the little girl that God had been preparing us for all of these years.
The next number of weeks were a whirlwind. We immediately went into "task mode". Our social worker Kim cautioned us, as stuff like this just doesn't happen.
On September 24, Carolyn sent Kim an email asking her how long the process could take at this point. Kim, again cautioned us, "Two weeks or more is a good estimate. But remember there is no point in getting too prepared at this stage. Just wait until we know more."
At the recommendation of Kim, we hired a lawyer from Toronto named Cheryl who acted as our adoption licensee. She was a really nice lady, who also warned us not to get too far ahead of ourselves.
As it turned out, there was a serious roadblock. When Jennifer had her baby, it was a surprise; she didn't even realize she was pregnant until her water broke. On the evening of September 21 when she left the hospital, she asked the Children's Aid Society to plan for her child.
Remember earlier in this section when I mentioned that CAS adoptions were totally separate and handled differently than private adoptions? Yeah, that was a big problem.
After contacting Jane, Jennifer became aware of us and set the bar in motion to try to switch it to a private adoption. Cheryl and Kim were very concerned that CAS would not give up the child.
On October 9, Carolyn and I met with Jennifer, Jane, and Jennifer's mother, Dorothy. What an amazing family! Jennifer and Carolyn shared similar personality traits and interests, while Jennifer and I shared common friends. We also learned that Jennifer had another daughter named Elisa, who was four years old.
Later that same day, through the grace of God, CAS released Jennifer's baby girl into the private foster care of Carol and Richard. And on October 18, we drove to Carol and Richard's and picked up our beautiful daughter. We named her Adalai Elizabeth Majoran. Adalai means "God is my refuge", and Elizabeth means "Consecrated to God". What an amazing gift from God!
After saying our thank-you's and goodbye's to Carol and Richard, we visited my side of the family. One of my most special memories is bringing Adalai to see my granddad nine days before he passed away. Although she'll never remember him here on earth, she'll get her opportunity one day in Heaven.
The journey has been more than we'd ever hoped for. Not only were we able to adopt Adalai, we have become good friends with her birth family. We share frequent dialogue with Dorothy, Joe (Jennifer's father), Jennifer and Elisa. When we head to Toronto for Christmas, we spend a night at their place while Adalai and Elisa "party it up". Over the last number of years we've developed a tradition of having Elisa up to the cottage with us. And when Joe and Dorothy are in London, where we live, they bring Elisa with them so she and Adalai can visit. They are absolutely amazing together.
What a great God we serve.


---